*gasp* I forgot to do Miscellany Monday yesterday. Shame shame on me! :)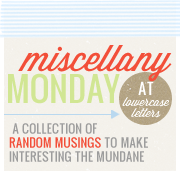 Oh, how I love it! The orchestra I play in accompanied the Camria Ballet dancers for one of their songs at their performance on Saturday. The lovely song was 'Dance of the Reed Flutes' from The Nutcracker Suite. I admit, it was amazing! I used to be in ballet, but quit when music took over.
We've been to 4 concerts this past weekend! Two on Saturday, two on Sunday. That explains why this blog has been neglected. On Saturday we went to my dad's choir concert and my orchestra's performance, and on Sunday we went to our grandpa's Master Chorale concert, then our dear friend Becca's choir concert. I am really in the Christmas spirit now.
3. denim.
Denim skirts, jeans, I love all denim! I have about 10 pairs of jeans, and our friend Jordan altered a skirt that had a split knee-high. Ooh, love that denim.
Sorry my Miscellany Monday was short, but I have to leave now! Talk to you lovelies later!